Meet the Team
"The trainers, they believe in you more than you would ever imagine.  That's the type of gym everyone needs to be a part of."
-Yesenia Mendoza, JMBA Member
Our teams' main focus is YOUR goal. We thrive on making each day a different workout, NO DAY IS EVER THE SAME! Our trainers have a collective 50 YEARS of experience in boxing, both competing and training, and some are still active today. We are well-versed in weight training and cardio exercises. Therefore, our boxing academy offers a variety of workouts that push you both physically and mentally.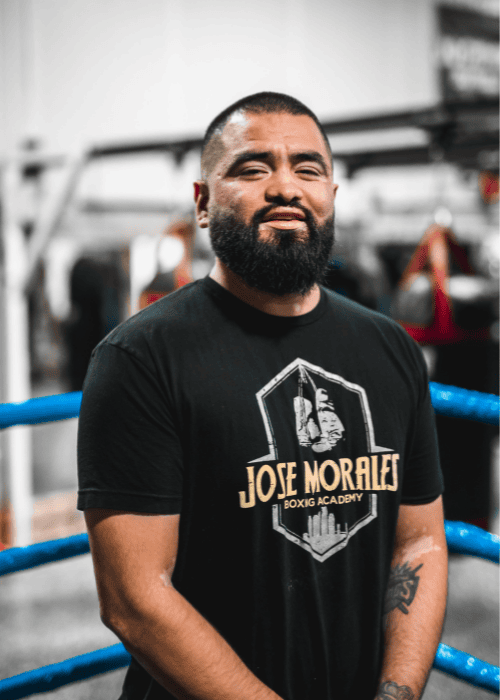 OWNER AND COACH
JOSE MORALES
"I guarantee that after you train with me you will not only love the workout – you'll love the sport of boxing."
I am a veteran of 58 amateur boxing bouts and first began training boxers in 2006, working with adults and teenagers. I strive to help members stay healthy, lose weight, compete, build confidence, or simply learn the science of boxing. I work with a variety of clients – from 4-year-olds to 70-year-olds, average Joes, blue-collar, soccer moms, troubled teens, honor roll kids, amateur boxers, professional boxers, school teachers and everything in between. No matter who you are, I can cater training to each individual. I adapt to each client's style and will modify workouts to accommodate injuries, weaknesses, strengths, dislikes, and likes so that everyone can learn how to box.
GYM MANAGER
KELLY CHAVEZ
"Never in a million years did I picture myself in a boxing ring! I wish I would have come across a boxing gym like this when I was overweight. It definitely would have helped me with my physical problems and I would have avoided all the mental drains that the bullying caused. Boxing definitely has built my confidence and has shown me things I did not even know about myself. It's not just a workout – there are life lessons learned in the boxing gym." 
Kelly was born and raised in Sacramento. As a kid, she struggled with obesity and was bullied about her weight. Weight loss has always been a struggle for her, but boxing has helped her not only physically, but also mentally. As a four-foot-ten, singing in the shower, Disney-loving 24-year old woman, she may not seem like someone you'd see in the ring or managing a boxing gym. However, she puts her Bachelor's degree in Economics and 8 years of customer service to use and proudly proclaims to love her job.
ASSISTANT GYM MANAGER
Dina Andrade
Dina is a Sacramento native. She loves a good challenge and has been with the gym since 2016.  Firstly, she fell in love with the sport and then fell in love with the entire community at JMBA. She is a dedicated and loyal employee with only have had one other employer previous to working for Jose and JMBA. Dina is a proud member of her church for over 15-years. 
"I want to contribute to communities that are making a real difference in people's lives and the sport (ie. Warrior Program). I feel like I can do that here. "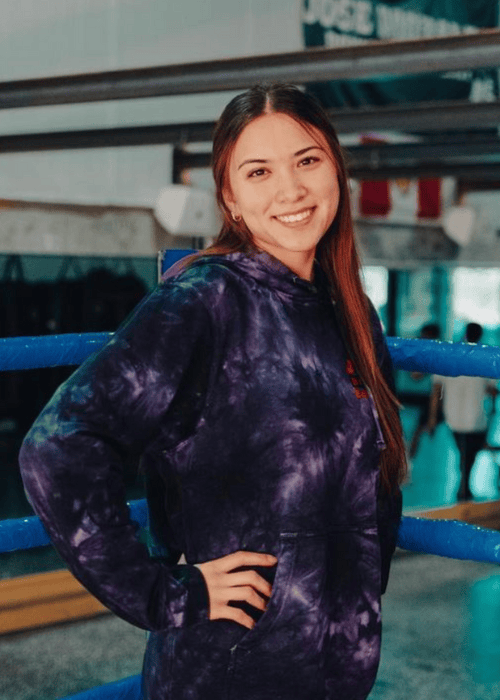 ASSISTANT GYM MANAGER
Mariana Morrison
Raised in the Sacramento area, I loved playing volleyball and competing in track and field. I have always loved being in an athletic atmosphere. After graduating high school, I felt misplaced without belonging to a team sport. I was blessed to find JMBA, where I am able to stay active while having the opportunity to
learn a new passion. I have been training for a year at JMBA and I love being a part of a place that promotes the physical and mental state of their members. I feel grateful for JMBA and their personal investment to each individual's growth. JMBA became the perfect place to find a positive outlet that provided me the tools to become a confident boxer. Outside of working at the gym, I am also attending Sierra College.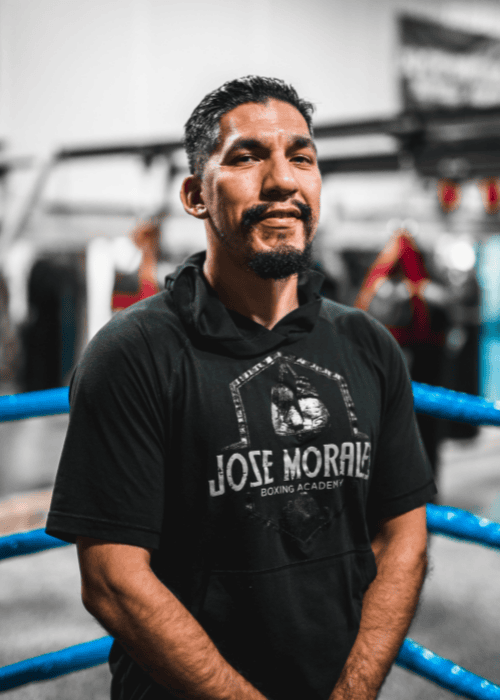 TRAINER & PRO BOXER
DAVID MELGOZA
"My varied background in boxing and fitness provides the perfect foundation for leading group exercise classes at The Boxing Academy. My personal passion for this sport enables me to motivate each person in my class to work hard and achieve their fitness goals." 

David is a standout Track and Field athlete with 4 years' experience as a High School Track/Cross Country coach. He has 20 years of boxing experience and has been working as a boxing coach since 2005. David is an active professional boxer, going 5-0 with 2 knockouts. 
TRAINER & AMATEUR BOXER
ALEX MARIN
Alex began boxing with us in 2018. A very hardworking and disciplined young man, Alex was able to graduate high school early. Now,  he is scouting what university he wants to attend. Currently, we are lucky to have Alex sharing his knowledge from his boxing experiences with the classes he now coaches.
ASSISTANT TRAINER & AMATEUR BOXER
ANTONIO REYNOSO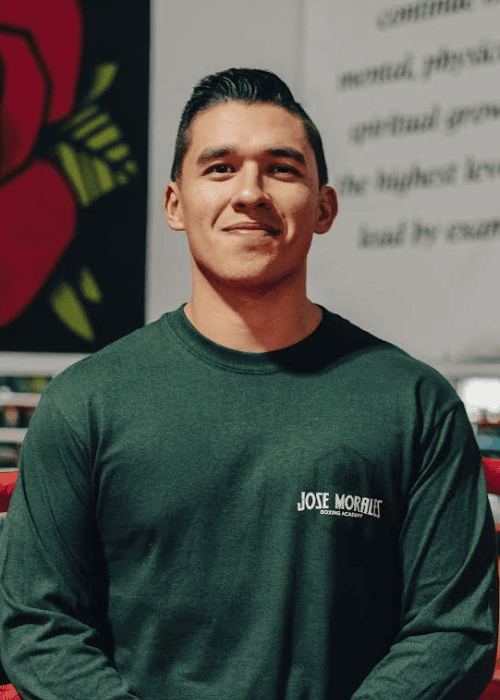 MASSAGE THERAPIST
ANTHONY MATTIS
Throughout my athletic career and ten years of experience in the personal training industry, I have developed a passion for corrective and foundational movement patterns. By teaching my clients how to create new habits of correct movement, they are able to begin moving freely, and without pain. Each session will be based upon your needs as we work through healing from previous injuries, releasing overactive muscles, correcting muscle imbalances, and creating foundational movement patterns to enhance your fitness and athletics.
"For anyone on the fence about working out, this is the place to start. The staff is absolutely amazing. I can't say enough about how kind and helpful they are. The people that you workout with are nice and there's a family atmosphere here. Even if you never thought boxing was for you, try it! I never thought I'd enjoy this as much as I do. It's hard, but it's so worth it."
"JMBA keeps me motivated and excited to work out and train. They have helped me set goals and stay on track. I love and appreciate the efforts of the staff and trainers. They help me reach my fitness goals."
"My sons have been going to this gym for two years now. They have come such a long way and they love to box and workout. The coaches are so encouraging and they have such a love for boxing it pours out of them and into the students. I thank them for being positive role models in my sons lives and making us feel welcome as a family."